Rolcontainers
We have roll containers in the following sizes: 770L, 1100L. If you want a different format or waste type, this is always possible on request.
Restafval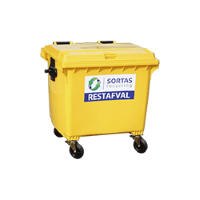 Papier
Folie
Container rental
We rent containers in various shapes and sizes.
Portaalcontainers
For private individuals & companies we rent portal containers for various types of waste. You can reserve this container directly at containerverlener.nl
Container 3m³
Container 6m³
Container 10m³
Container 10m³ Gesloten
Haakcontainers
We have the hook containers available in the following sizes: 11M³, 15M³, 30M³ and 40M³. The closed hook containers are available in 15M³ and 30M³.
Container 11m³
Container 15m³
Container 30m³
Container 40m³
Contact
Do you have questions? Or do you need advice in finding the right solution for your specific container? Feel free to contact us!
Sortas Recycling B.V.
Griend 9
8321 MN Urk
Tel: 0527-681556
Email: info@sortasrecycling.nl